Process For Striking Off Your Singapore Company
How much do you know about the process in striking off your company from ACRA's Register?
So, you have made the decision to cease operations of your business and have the name struck off ACRA's register. The initial process starts before submission to ACRA.  It is important to ascertain that the company does in fact qualify for striking off. Refer to the checklist of the criteria for striking off your company.
As your company's name will not be taken off the register immediately upon approval by ACRA, it is good to understand what goes on after  you have submitted your application.
Upon submission of an application to strike off a company, ACRA will review the application within 5 working days. If ACRA is satisfied that all criteria required for a striking off are met, it will approve and thereafter issue a striking off letter.  A copy of the letter will each be sent to the company's registered office address, to its officers (directors and company secretary) at their residential addresses and also to IRAS.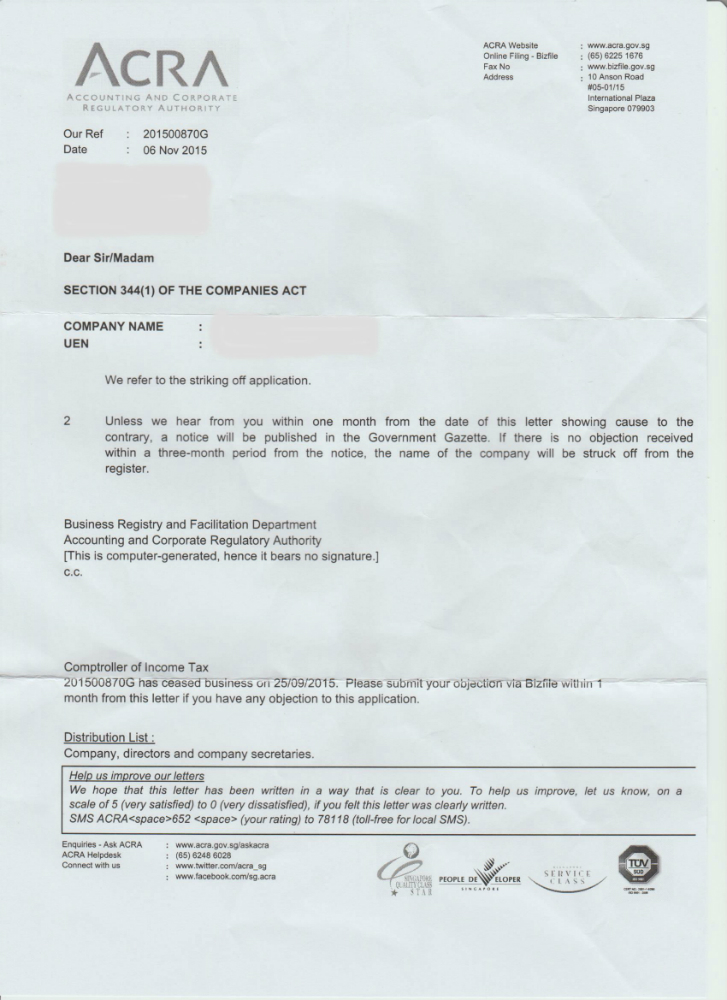 There is a grace period of 1 calendar month for anyone to voice their objection to the striking off.  Once this grace period is up with no objection, ACRA will include the name of the company in the next publication of the Government Gazette. This is referred to as the First Gazette Notification.
A second grace period of 3 months after the First Gazette Notification will take place.  This is again for anyone to file their objection. If there is still no objection from anyone, ACRA will proceed with the Final Gazette Notification.  This is done by once again publishing the name of the company in the Government Gazette.  Once the Gazette is published, the name of the company will be struck off the register. It will also state the date of when the company has been struck off the registry.
In total, the whole process will generally take more than 5 months.